Bernettes 7, 5, 3 and Seville 4

Discover the new design world of bernette! Each of the four bernette models has so much to offer: solid construction, great features and a striking new look we call blo:c! The smooth white exterior with red digital display shining through the surface


BERNINA 1008

BERNINA 1008 (mechanical) A convenient mechanical machine, priced affordably. This gem of a sewing machine has the BERNINA features and easy convenience beginners love . . .at a very affordable price. Ideal for sewing quilts, crafts and garments, the


BERNINA 210/215

Highest quality for a low price tag! So you want to make sewing your new hobby, spread your creative wings occasionally and sew something individual and different, deck out your home with original decorations, or alter the odd garment when the need ari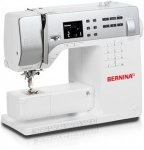 BERNINA 330

Quality and precision in a well-designed package. The BERNINA 330 leads the way in design and technology. Its modern LCD display, bright LED sewing light and convenient features make sewing even more enjoyable.


BERNINA 350PE (Patchwork Edition)

Superior design and features in a quilter's package. Whether stitching clothing or home décor items, quilting or simply mending, the BERNINA 350PE gives you the freedom to explore a wealth of creative techniques.


BERNINA 530

If you enjoy your sewing hobby, want a full size machine and don't embroider, the B 530 is a great fit for you. With your choice of BERNINA accessories, the B 530 will take you from crafting to home decorating to quilting with ease. And the B 530 is com